What is a Reiki treatment like?
Before the treatment begins, you will be asked about any relevant medical and personal history and about any concerns or relating to your visit. We will talk about the purpose of the session and you can ask any questions about your treatment or Reiki in general.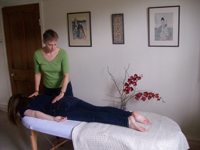 People receiving Reiki usually lie comfortably on a massage table. But if, for any reason it's uncomfortable or impossible for you to lie down easily, then the treatment can also be given with you sitting in a chair. It's a good idea to wear comfortable indoor clothing (you only take your shoes off for Reiki), and you might want to loosen any ties or belts to help you relax and breathe easily during the treatment.
Reiki sessions take place in a calm and relaxing atmosphere, often with quiet music, low-level lighting and perhaps candles and pleasant scents. Reiki therapists use their hands on or over different parts of the body, sometimes in a particular sequence and sometimes focusing on specific areas. Reiki flows to where it is most needed in the mind and body.
Reiki sessions usually last about an hour with each hand position usually held for a few minutes.
Treatment costs
Initial Session 1 hr 15 mins £45
Follow-up session 1 hr £40
For more information on Reiki treatments and to make a booking, please contact Linden at;
lindenreiki@gmail.com
or by telephone on 01244 336 080